"Hey baby, what's your love language?"
Sound like a cheesy pick-up line? It totally is.
But it's also a very cool book called, The 5 Love Languages: The Secret to Love that Lasts. It was a big hit maybe 10 years ago, and I read it when my hubs and I were first married.
The idea is that everyone has a different "love language" — a way that they prefer to give and receive love and affection — and by speaking to your loved one in their own language, you'll be better able to show each other affection. 
It's why when my husband is speaking his love language, he digs me a new garden plot in the yard for Mother's Day; and when he's speaking my love language, he writes me an amazing Valentine's Day card about how he sees beauty in randomness (like protein output patterns at work) because he loves me. <— True story.
What does this have to do with blogging?
Well February, Valentine's Day and all — it got me thinking about how we show our readers love. I think we can translate this theory to how we show affection and appreciation to our blog readers and communities. If you know what your readers' love language is, you can give them more of what they want.
So, what are the five love languages of blog readers? I'm so glad you asked…
Touch
It's a little hard to physically touch someone through the interwebs (touched by a blogger?), but there are other ways to interpret this love language:
Some readers really love all those special touches that show you care. First and foremost, this is about the style of your blog.
Formatting that is clean and readable
Beautiful design and images
Useful sidebar links, search box, easy to find the info you're looking for
Useful newsletter
Well-curated social media feeds
Yes, this coming from the woman that just spent a year redesigning her website, but style doesn't have to mean fancy. In fact, I got many compliments on my old website (which I put together myself for all of about $60), because it was clear, direct, and to-the-point. People could find what they needed and knew what I was about as soon as they got there. 
But special touches could also be things like answering email inquiries yourself. If you subscribe to my mailing list, I ask "What are you struggling with most right now?" in the thank-you email, and if you take the time to answer it, I will personally answer you. 
I also believe in "the five-dollar wow," — a little gesture that costs $5 or less that will make people go WOW. When someone wins a giveaway on my food blog, I mail them their gift with a hand-written note on branded notecards, and include the recipe for the blog's eponymous Laughing Lemon Pie on a pretty recipe card. When I bring on a new VIP client for ghost blogging, they receive a little thank you gift in the mail from me. 
These things are easy enough to do, but make a big impression.
Reach out and touch someone:
What easy changes can you make to your blog's format or styling that will improve the reader experience?
When you write a blog, set it aside for half an hour before you publish, then read it again for errors and readability.
What's your "five-dollar wow" for readers or clients?
Quality time
Some people just want to know you care by spending time with you, and that's cool.  Of course, it can get a little dicey in a business situation, too. I've seen lots of advice around and about that you should charge people to "pick your brain," or take you to coffee, and there's some merit to this. Once you reach a certain level of success, there are people (with the very best of intentions) who just want to sit and talk with you and get some advice — but you may not be able to accommodate that. 
Still, I think there are other ways to spend quality time with your readers. For example, I ran a series of webinars last year where people could send me blog posts and we would go over them and improve them live. (A little nerve-wracking, but fun!) These webinars weren't sales pitches, either. I was just trying to be useful.  
I've also done AMA (ask me anything) hours on Facebook in different groups I belong to — and I'm planning one on my Facebook page to talk about branding this week. (Click here to like my Facebook page for all the deets.) 
I was consistently impressed and fascinated with the amount of personal time Tara Gentile gave to us in her Quiet Power Strategies group coaching program. When we had a Q&A call, she would answer questions as long as we asked them, and then she'd do it some more in our Google+ group and on our individual homework assignments. THAT'S quality time.
Kevin Knebl, a powerhouse international speaker and LinkedIn expert, tells people at every one of his talks that they can call him up any time they're in his neck of the woods, and he'll invite them over for dinner! And I don't doubt him for one minute. He has built his personal brand on being available. I've seen him speak twice and shaken his hand once, and I know for a fact that I could contact him right now to schedule an hour of his time to "pick his brain" about anything. That's who he is. 
But rather than live, in-person time, this might also be about the time you put into creating content. I'm making a new effort to create downloadable worksheets, checklists, and action sheets for many of my blog posts — and people can see and recognize that takes time and effort.
Spend some time with your audience:
Host office hours, a Q&A call or an AMA thread regularly so people have access to you.
Invite people to ask you questions; be available and useful.
Create a survey to ask them what they want to see; make them the center of your content strategy.
Do a 100 People Project, ala Hey Shenee! where you commit to speaking to 100 people — for free. (This is one way the lovely Nikki Elledge Brown skyrocketed to success in her first year of business.) 
Words of Affirmation
This is totally my love language.  If you ever need to know how to get on my good side, just tell me how amazing I am. 😉
In Internet land, I'm going to define this as engagement. How can you engage more (or more effectively) with your audience.  If you want an active, engaged audience, you must work on cultivating your blog's culture. 
To me, this means writing directly to your most valuable reader — the one who will like and share your message, who will evangelize you to her friends and followers, who will be willing to buy anything you put out there (or at least be eager to hear about it!). You want to write your blog posts as though you are speaking directly to her.
This also means specifically asking for and responding to comments, engaging your fans and followers on social media, and generally being present where your readers are.
But pretty much everybody recommends doing that. So how can we take it to the next level?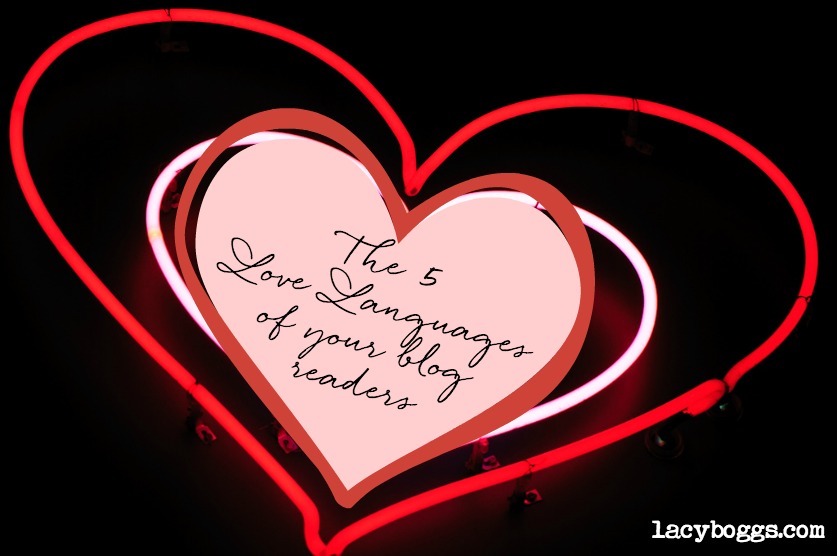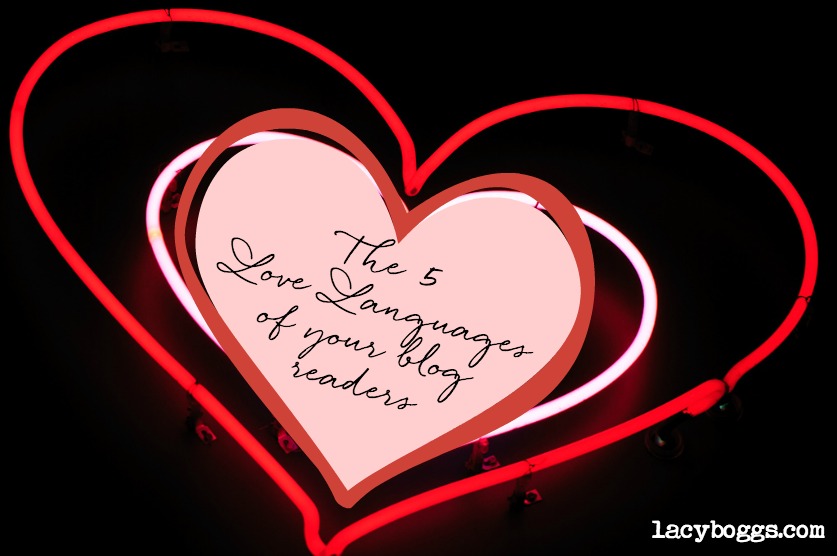 Public displays of affection:
Instead of just responding to reader's comments, why not visit their blogs and leave a comment of your own? Email someone who has a question to take things a little deeper.
Connect with them more on social media by following them back, retweeting, sharing, or repinning their content. 
Create more meaningful #FF (follow Fridays) by encouraging readers to follow one another.
Call out readers by promoting a "commenter of the week" or "best comment." People love to be recognized publicly for something they've done, and they love to feel special.
Write about readers and clients — do case studies or answer reader questions. 
Acts of Service 
My husband's love language is acts of service, and let me tell you, it took me an awfully long time to figure out that when he changed the furnace filter or rotated my tires that was his way of saying, "I love you." 😉 
I'm interpreting acts of service in a blogging context as incredibly useful content. There are three main categories of blogs: those that inspire, those that entertain, and those that educate.  Danielle LaPorte has a very inspirational blog; Dooce and The Bloggess are just there to entertain you; and most business blogs (though not all!) are educational in nature. 
So, whichever category you fall into, make sure you are putting effort into being epically useful to your readers.
When I polled my readers last year about what they'd like to see more of from me in an e-newsletter, the overwhelming answer was more templates and step-by-step guides.
That's why I created the Eyes Only Content Library. It's a great place for me to collect all the templates, guides, ebooks, interviews, and other goodies I create in one place for you so that you can always find what you need. Right now it has my ultimate guide to building your editorial calendar, an editorial calendar template, my "perfect" post template, a list of 66 blog post ideas to get you writing, an email template for promoting your blog post, and more. Plus, I'll be updating it every quarter with more good stuff. 
Copyblogger does this well with their My Copyblogger library; and their sister business, Rainmaker, hosts an incredibly useful podcast.  Leo Babauta of Zen Habits achieves the same goal with his simple Start Here page. 
Serve your audience:
How can you be more useful to your audience? 
Ask yourself what they need right before they work with you. And before that? Create the resources they need to arrive at a place where your products or services are right for them. 
Create guides; these could be as simple as lists of blog posts they might want to read in order to achieve a certain goal or answer a particular question. 
Offer your best stuff for free. Don't be afraid of the freemium model. It works. 
Gifts
I think, if we're being honest, we all like gifts, right? Maybe Leo Babauta is zen enough that he doesn't crave gifts, but for the rest of us, gifts are a pretty universal love language (in my opinion).
So ask yourself: What kind of gifts would your audience value? 
My audience asked for more templates, more checklists, more downloads, so that's a major content focus for me in 2015. But your audience may want something different.
Giveaways are pretty universally popular. I was incredibly chuffed to be able to give away more than $2,000 in valuable prizes during my Marketing Scavenger Hunt last week. (The competition is over, but you can still access the mini marketing missions as part of the Eyes Only Content Library.) And on my food blog, I pretty regularly partner with brands to give away fun goodies to my readers.
Holly Gillen, of Holly G. Studios, is giving away a very covetable seat in her Start to Star video confidence program as part of a fun Instagram challenge, which not only benefits her readers (free education!) but also benefits her by beefing up her Instagram following and getting free publicity for her brand and her course. WIN/WIN
Gifts that keep on giving:
What would be in your version of the Oscars red-carpet goodie bag for your clients? Doesn't have to be expensive, as long as it's something they value.
What do you already have that you could gift to your readers? I interviewed life coach Alessandra Wall for the Marketing Scavenger Hunt, and she shared how she turned one of the questions on her intake form into a worksheet for her readers. GENIUS!
Who could you partner with to help you give some gifts? I was blown away by the generosity of my partners in the Scavenger Hunt — they weren't required to give any prizes, but they chose to do so in a big way!
 Take Action
Don't just think about showing your readers some love — take action to make it happen!  You can download the love languages cheat sheet here for free, and then choose at least one to implement right away.
Not sure which love language will resonate most with your readers? Ask them! I use Typeform for beautiful free surveys that can be hosted on their site or embedded on yours. 
Love this content? I'd love to hear what resonated most with YOU! Let me know in the comments below.
Photo credit: Eric cc