Sooo… What do you think of the new digs?  😉
This website has been a long time coming, and I'm so incredibly pleased to introduce you to the new look, new feel, and new brand that will take us into the future!
The story so far…
First, let me just say, this new brand has been almost a year in the making.
Yup. That's not a typo.
So your first branding rule is:
Good branding takes time.
Nothing about this was hurried. Nothing was rushed. Everything was considered, carefully.
First, I was delighted to be one of the first to go through Sarah Ancalmo's Privé process. It's a four week coaching process in which no stone is left unturned, no idea is left unexplored. Plus, it's a metric crap ton of fun.
I mean, the name "Bloggy Galore" came up at one point.  'Nuff said.
The process is intense. First you go through the (incredibly well written, ahem) workbook to help crystallize your own ideas and to help Sarah see where you are and where you're coming from. It was interesting, having helped her polish the text of the workbook, to come at it from a client's point of view.
Then Sarah led us through four weeks of brand exploration, diving deep into what I wanted out of a brand. There was even a little bit of real coaching as she coaxed me not to be afraid of being the face of my brand.
This is when we came up with my brand hook. I like to think of this as a "high concept," like they talk about in Hollywood; it's two or three words you can say that immediately evoke a concept in people's minds.
Mine? Noir, secret agent, secret weapon.
Without ever having seen my website you'd get a picture of what that would be like, right? And that concept will inform everything I do from here on. It told us what the photos would look like, it told me what the copy would sound like, and it will inform how I name my future products, and so on.
It's such an amazing thing to have… It makes everything else seem so easy! (It's also why I looooove working with Sarah's clients — she makes my job so easy!)
After those four weeks of thinking, brainstorming, and exploring were done, Sarah went to the old drawing board (aka: Pinterest) and started collecting visuals to inspire us. We spent several weeks adding things, chatting about things, going back and forth until we had a vision.
Then we booked the photographer.
This brings me to branding tip No. 2:
Book your professionals early.
People who are amazing at what they do are naturally going to book up quickly, and book out weeks or months in advance. That is the (very small) price you pay for working with genius.
This is true of your photographers, your makeup and hair artists, your branding experts, your copywriters, your designers, your developers — and really any professional you might hire to help you out.
It never ceases to amaze me when people are stunned — STUNNED, I TELL YOU! — that I am booked up for several weeks into the future. Not to toot my own horn here, but when you're good at what you do, you're in demand.
So we booked Sarah's preferred photographer, Monica True, and the amazing Myken Garcia for hair and makeup, probably at least four weeks, maybe six or eight in advance (I can't recall).
And yes: We shot the photos before we ever started designing the website. Which brings me to branding tip No. 3:
Content comes before the container.
LOADS of people design their website (or pick their templates or whatever) before they get the photos taken or write their copy, but Sarah is very strict about doing it the other way around: content comes first.
Personally, I love this rule, because it means the form follows the function, not the other way around.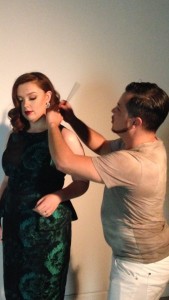 Anywho, mid-July I flew out to the D.C. area to be primped and pampered and photographed like a movie star. It was literally one of the most amazing experiences of my life.  It also happened to be the week after my father died. Everyone was so gracious and thoughtful and offered to reschedule, but I needed to move forward, and this was a wonderful way to distract myself for a few days.
I can honestly say, he would have loved these photos. (He was a major sucker for a period piece!)
Anywho, the photos came rolling in from Monica, and meanwhile, I was writing the copy. We had the copy completely finished and the photos picked out for each page before Sarah ever started designing the website. Next stop: logos.
At this point we're about six months into the project, and it seems like a good time for branding tip No. 4:
Brand for the business you want in the future.
One of the most powerful things Sarah said to me during our Privé process was that we should design my brand for the business I want to have in 5 years.
The idea is twofold; one, I don't want to have to do this every other minute, so we want something with longevity, and two, by branding for the level of clients I hope to have in the future, they will self-select and come to me sooner.
Genius.
In any case, that's why the new site is called The Content Direction Agency.
I knew when we started the process that I wanted to go bigger than Ghostblogger, because I was adding additional services beyond ghost blogging.
Sarah helped me see that I was almost certainly going to have to hire additional help in the near future, which is why we decided to call it an agency.
(Also because "direction agency" sounds a little like "detective agency" in my mind.)
Lo and behold: just a couple of months before the new website launched, I hired my first subcontractor. (Check out the "Agents" section at the bottom of my About page to meet my team!)
That Sarah, man. She's good.
Things started happening a bit faster from here. Sarah came up with my visuals — logo, name treatments, etc. — and then started working on the website design. Designing the site took three or four weeks, and then on to development!
Bonus Tip: Things Happen for a Reason
Development took a little longer than I expected — but it was so worth the wait.  And it completely proves the old adage that good things come to those who wait AND things happen for a reason!
In this case, the extra time gave me the opportunity to come up with a SUPER cool way to introduce my new website and BRAND SPANKIN' NEW content library to the world!
Introducing the Marketing Scavenger Hunt!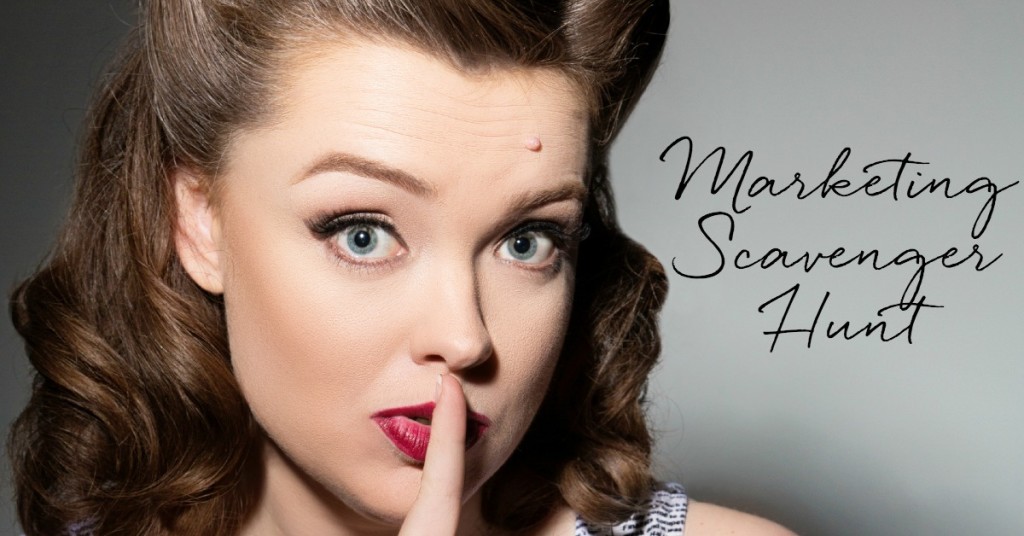 Here's how it works:
Sign up for the scavenger hunt here — this also upgrades your access level to my brand new Eyes Only Content Library, which will be consistently updated with exclusive ebooks, templates, and other goodies to help you master your content marketing.
Once inside the library, find the Scavenger Hunt section and today's clue.
Every day from February 9 thru February 15, a new clue will be revealed from some of my good friends and partners in the content marketing space. You'll get their very best tips on content marketing in a short interview.
Solve the clue and you'll find that day's mini mission. Each mini mission will improve your content marketing and can be completed in about 30 minutes!
Submit your entry to show you completed the mission to rack up points — the player with the most points at the end WINS a huge prize pack!
Yeah, did I mention that there are prizes? (That's right: I'm giving away prizes for doing content marketing stuff you should probably be doing anyway! Amazing, right??)
A multimedia copy of Tara Gentile's new book, Quiet Power Strategy (available February 10) – VALUE: $15
An autographed copy of Speak Up for Your Business: Presentation Secrets for Entrepreneurs Ready to Tell, Sell, & Compel by Michelle Mazur — Value: $25
A 15-minute mini-Elevate session with Breanne Dyck, to help you turn your ideas into online products and programs that customers can't stop raving about. – VALUE: $150
A Change of Heart Coaching session with Alessandra Wall to help you visualize your future – VALUE: $299
A seat in the upcoming Zero to Video Hero Challenge with Holly Gillen to get you through any video overwhelm – Value: $299
Design of a 6 page interactive opt-in PDF with interactive elements like buttons, fill-in-able-text boxes, checkboxes, hyperlinks, etc. if desired from Sara Berkes Creative — VALUE: $525
An Editorial Calendar strategy session with Lacy Boggs to get it all in an actionable PLAN! — VALUE: $359
TOTAL VALUE OF THE GRAND PRIZE PACK: more than $1,600!
I'll also be drawing random winners for additional prizes — but you have to play if you want to win!
Ready to play?
The first clue is up and ready to be solved! Click here to sign up and get started! You never know: you could be the winner of the huge prize pack — but your business will definitely be a winner if you complete all seven mini-missions!
To close, I just want to say a huge, ginormous thank you to you, my readers and clients. Without you, this would never have been possible. As much as Sarah, Monica, Myken, Nathalie, Teri, Emily, Tara, Jessica, and Kuvy helped me make this dream into a reality, so to did you. THANK YOU!
And welcome to a whole new level.