Three stories
Your assignment: Detect which is my true voice
Fade In : Pacific Coast Highway at sunset.

A young woman, aglow in the warm twilight reflecting off the ocean, smiles out the window as her handsome boyfriend drives a little too fast around the seductive curves of the PCH. She is feeling content, accomplished, bursting with the energy of the possible.

She has just completed a rigorous interview for a coveted internship position with the Director's Guild of America – her golden ticket into the glamorous world of Hollywood filmmaking. Four years of hard work at film school, glowing letters of recommendation from her professors, nine months of applications and interviews for this position all behind her, and the promise of a new life with her beloved in sunny Southern California await.

Her cell phone RINGS.

A surge of adrenaline rushes through her, her heart pounding into overdrive as she answers. It's them.

VOICE ON THE PHONE
"Sorry to inform you… You've been cut…"

The conversation lasts less than a minute, but it erases years of hard work, months of anticipation, days of giddy high imagining her perfect future.

Gone, in less than sixty seconds.

She turns to her beloved, her voice quivering, tears coursing down her face.

LACY
"I don't have a Plan B…"

Dateline : Colorado, three years later

After several years of searching for a way into the film business, while keeping herself afloat with temporary jobs, Ms. Boggs made the decision to leave the film industry and instead made her way with her new husband to Colorado.

There, knowing no one and with few prospects, she applied for work with a temporary agency known for providing labor in creative fields. During her application process, she indicated that she would be a good fit for the position of copy editor. The recruiter expressed doubt, as she had no commensurate experience on her resume, but agreed to let her take the copy editing proficiency test.

BOGGS SCORED 100% PERCENT.

"I'd never had anyone else get a perfect score on that test," the recruiter said, "so I believed she could do the work."

Boggs was placed in a copy editing position with a company known for producing the official travel guide magazines for locations across the country. Before long, she was promoted to editor, and oversaw the production of eight magazines.

But three years into the position, the company began to have financial difficulties, and Boggs was laid off. It was the beginning of the economic downturn.

Undeterred, Boggs applied for other journalistic positions, now with the resume and experience to back up her passion for writing.

Before long, she was engaged as the associate editor, and later food editor, of a hyper-local magazine in Boulder County, with 70,000 copies per month reaching local audiences. Boggs went on to earn high accolades for herself and the magazine, with three awards from the Society of Professional Journalists.

Top Secret : Eyes only

It's not hard, really. I've always preferred being behind the camera to being in front of it.

The power behind the personality.

In fact, this work seems a perfect, almost unbelievably serendipitous combination of my unique skills. I understand the steps of producing a story. I have the words to make the story come alive. I have the gift to translate myself into someone else.

It isn't my story any more.

But that's not entirely true either.

Because the stories become my own. I slip seamlessly from one persona to the next, living out my wildest dreams.

I am a business coach.

I am a stylist.

I am a health expert.

I am an interior designer.

I am a unicorn-loving hippy, a buttoned-up business man, a holistic health expert, a couture style expert, a woo-woo life coach, an Australian, a New Yorker, a Brit….

I can be whoever I need to be. I come in, do my job, and tell the story that needs telling. I amplify the voice, lead the tribe, entice new customers, convert new sales, skyrocket the business, support the brand, become the persona –

And when I do my job well, no one need ever know I was there.
Which one is the real me?
Oh, honey… That's kind of the point. They're all me. And they're all true.
A great storyteller can juggle multiple personalities;
I JUST HAPPEN TO DO THAT BETTER THAN MOST.
MARIE SCHNOOR — "009"
(she/her)

Marie has a "license to thrill" with her sharp wit and elegant words as one of our writing agents. Marie comes from a fiction and book editing background, and is a master of disguise, putting all those voices in her head to excellent use emulating the brand voices of her clients.

KAREN PEDERSEN — "Agent 99"
(she/her/hers)

Karen loves to thwart the international organizations of crappy copy with her whip-smart wordcraft. She frequently employs the old (and new) SEO tactics to get better results for the clients she writes for. And — would you believe? — she loves dogs and runs her own doggy blog.
BETH HAYDEN — "JEDI MASTER"
(she/her)

Beth is our master for all things sales: emails, sales pages, and webinar pitches. She uses her Jedi mind sales tricks to help our clients feel confident (not icky) about their sales copy. She loves writing the things that make many business owners want to run screaming for the hills. "These ARE the products and services you're looking for…"

MONICA HERALD — "Q-WERTY"
(she/they)

Monica often flies under the radar, going undercover for some of our most high-profile clients to create covert copy that converts. She loves a challenge and excels at writing SEO copy that doesn't sound like a computer spit it out.
NATALEE BRANHAM — "THE FIXER"
(she/her)

Natalee takes care of all the details — for our team and for our clients. She's our gal in the chair, our woman in Havana, our gal Friday. She makes it her business to know all the details…. and where all the bodies are buried!

MEG CASEBOLT — "SEOMG"
(she/her)

Owner of Love at First Search, Meg is our agent in charge of all things search and analytics. She helps clients understand their traffic and SEO and come up with simple strategies to make their content work harder and bring the right clients at the right time. She helps us keep the big picture in mind when creating content.
Our Vision and Mission
Our vision is to replace the NOISE in the online marketing space with thoughtful, valuable, and essential content.
Our mission is to help visionaries, thought leaders, and CEOs change the world.
We believe in inclusivity, equity and diversity. And we have signed the Anti-Racist Small Business Pledge, and are committed to implementing it in our business.
We believe in a business culture of appreciation, realistic expectations and work plans, an openness to new ideas, and quality over quantity.
We believe that there are many different paths to success, many different viewpoints, and always more than one way to succeed.
And we believe that how we feel about our work is just as important as how profitable the work is.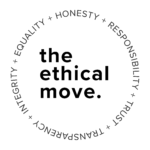 We do all this through a business model that prioritizes ease over hustle, collaboration over competition, and authenticity above all.
We don't worry about grabbing a bigger slice of the pie; we just bake more pie!
This badge represents our pledge to the ethical move in service of a new marketing standard based on transparency, trust, and honesty. Please connect with me if you see me not honoring my pledge.
Our Promise:
When you work with us, you can stop worrying about your content marketing for the next 6 months and move forward confidently to share your message. We'll create an editorial calendar and content strategy that's aligned to your business goals and provide the resources you need to make it happen.