OUR ORIGIN STORY
The Content Direction Agency is a boutique content marketing agency focused on helping small business owners with the content BETWEEN launches that helps businesses grow, nurture, and prime their audience to say "Hell yes!" before they ever see an offer.
For more than 10 years, The Content Direction Agency has served hundreds of small businesses with strategy and done-for-you content writing to create fantastic, engaging content so that the business owner doesn't have to. We offer strategy consultations, content-writing retainers, and copywriting packages for all types of businesses with an online presence.
About Director
Lacy Boggs
I was born and raised in the suburbs of North Texas and while I absolutely use "y'all" as my preferred way of addressing a group, I don't have much of an accent. Unless you get me riled up about something.

I wrote my first book, a picture book, in the eighth grade and had a friend illustrate it. Most of my spiral notebooks for taking notes in class were actually filled with the epic novels I was writing.

My big "why" for starting my company has always been to help other people find the same freedom and ease with their work as I have. Having a happy team is wildly important to me.

My husband and I moved to Colorado in 2008, during a recession, with zero job prospects and zero contacts. I applied to a creative temp agency and told them I was a copy editor despite also having zero copy editing experience. They told me I was the first person to ever score 100% on their copy editing test.

I have my BA in "moving image arts" from the College of Santa Fe, which no longer exists. I studied filmmaking in school and wanted to be the next Sophia Coppola. But I didn't have her pedigree or her funding.

My senior year in college, I applied for a prestigious internship in Hollywood. There were 3,000 applicants for 30 spots. I made it to the top 100, and I was driving down Highway 1, looking at the sunset over the Pacific with my boyfriend (now husband) when I got the call that said, "You've been cut." I didn't have a plan B.

Not knowing what to do with me in my grief, my boyfriend (now husband) took me to Disneyland the next day. It was the first time I'd ever been to a Disney theme park.

Around 2005, while answering phones as a temp at an exterminating company, I started writing a Harry Potter fan fiction longhand on yellow legal pads. The story ended up being more than 200,000 words long, and my dad illustrated it with more than 40 individual pen and ink drawings — one for each chapter. I was briefly internet famous in the Harry Potter fandom for my work on this and a couple of other projects.

I type around 100 words per minute.

I worked in PR for the fine jewelry industry in California for several years, and our firm represented some of the biggest name jewelry designers in the world. I was regularly around millions of dollars worth of diamonds and other precious jewels. And they paid me $12.75 an hour.

I once got to work the Oscar suites at the Beverly Hilton, where B, C, and D-list movie stars "shop" for clothes, jewelry, shoes, and accessories they can borrow or be gifted by the brands to wear on the red carpet at the Oscars.

I knew I had to leave that job — and California — when my boss asked me to find out who did Demi Moore's knee lift, because she wanted to get one.

I was the food editor and restaurant reviewer for a local magazine for several years. When I got the job, a veteran restaurant reviewer invited me out for lunch. He told me I'd have to get rid of my blue hair because I'd be too easy to recognize. I didn't think anyone would care enough about my reviews to recognize me — but he was right! It quickly became obvious that better restaurants were on the watch for the reviewer with blue hair.

I won three awards from the local Society of Professional Journalists for my food writing.

I started a food blog called Laughing Lemon Pie, after a family story about a very sour lemon pie my grandmother made. She had a cooking show on local television in El Paso, Texas in the 1950s called "Today's Kitchen."

As a food blogger, I was invited to be a regular contributor to one of Martha Stewart's websites, and I was featured on the NPR show, "The Splendid Table" telling the story of the original laughing lemon pie.

I had my daughter, our only child, at 30. We had an extensive birth plan which she completely threw out the window. She was 2 weeks early and the only reason she wasn't born at home is because my husband insisted it was time to go to the hospital. She was born less than 45 minutes after we got to the hospital, with no drugs. My doula missed the birth; she ran into the room right as the nurses were handing me the baby. She took one look and said, "That's a little girl who knows exactly what she wants."

I left my job at the magazine and started freelancing when my daughter was born. My goal was to stay home with her and be able to replace my previous full-time salary ($35k) as a freelance writer/blogger. My first year on my own, I made less than $5,000. But by my third year in business I earned more than my previous salary working for myself.

Since starting my own business, I have only ever worked 20-30 hours per week, on average.

In 2016 I wrote a business book in a month. I self-published it as a Kindle ebook for $0.99 and it became a bestseller in 3 different business categories. To date, I've sold nearly 10,000 copies.

I'm a classically trained singer, and I love to sing, but I have terrible stage fright when I have to sing solo. I absolutely love to sing in a choir, however, and still do. I've performed at some amazing venues including Red Rocks Amphitheater in Colorado, the Meyerson Symphony Center in Dallas, the amphitheater in Pompeii, and soon, Carnegie Hall in NYC.

It took me 10 years to finish my first original fiction novel, and while I'm glad I finished it, it is what we lovingly refer to as a "bottom drawer novel" in that it will never see the light of day. I wrote my second original novel in 30 days for NaNoWriMo and self-published it. I'm working on the sequel.

I lost my father, my grandfather, and my grandmother in one 12-month period between 2014 and 2015.

I launched my current detective agency branding in 2015. When I was working with the brand director, she asked me to think of 4 or 5 dream clients I wanted to work with. Within 6 months of launching the new brand, I had landed one of my dream clients and worked with her for 4+ years.

In 2021, my husband and I paid off our mortgage. We are now 100% debt free.

We're turning our quarter-acre suburban lot into a food forest. I also love to go foraging and my daughter knows more about mushrooms and the latin names for plants than most adults you will ever meet.

In the 10 years we've been in business, we've served more than 100 different businesses.
Official Bio
Lacy Boggs is a content strategist, author of the bestselling Kindle ebook, Make a Killing With Content, and the director of The Content Direction Agency. She helps small business owners create and implement content marketing strategy that feels like a playground for ideas and results in deceptively powerful nurture content to create massive growth.
---
Click here for more information about the Ace Stone, Marketing Detective podcast.
MARIE SCHNOOR — "009"
(she/her)

Marie has a "license to thrill" with her sharp wit and elegant words as one of our writing agents. Marie comes from a fiction and book editing background, and is a master of disguise, putting all those voices in her head to excellent use emulating the brand voices of her clients.

KAREN PEDERSEN — "Agent 99"
(she/her/hers)

Karen loves to thwart the international organizations of crappy copy with her whip-smart wordcraft. She frequently employs the old (and new) SEO tactics to get better results for the clients she writes for. And — would you believe? — she loves dogs and runs her own doggy blog.
BETH HAYDEN — "JEDI MASTER"
(she/her)

Beth is our master for all things sales: emails, sales pages, and webinar pitches. She uses her Jedi mind sales tricks to help our clients feel confident (not icky) about their sales copy. She loves writing the things that make many business owners want to run screaming for the hills. "These ARE the products and services you're looking for…"

MONICA HERALD — "Q-WERTY"
(she/they)

Monica often flies under the radar, going undercover for some of our most high-profile clients to create covert copy that converts. She loves a challenge and excels at writing SEO copy that doesn't sound like a computer spit it out.
NATALEE BRANHAM — "THE FIXER"
(she/her)

Natalee takes care of all the details — for our team and for our clients. She's our gal in the chair, our woman in Havana, our gal Friday. She makes it her business to know all the details…. and where all the bodies are buried!

MEG CASEBOLT — "SEOMG"
(she/her)

Owner of Love at First Search, Meg is our agent in charge of all things search and analytics. She helps clients understand their traffic and SEO and come up with simple strategies to make their content work harder and bring the right clients at the right time. She helps us keep the big picture in mind when creating content.
Our Vision and Mission
Our vision is to replace the NOISE in the online marketing space with thoughtful, valuable, and essential content.
Our mission
is to help visionaries, thought leaders, and CEOs change the world.
We believe in inclusivity, equity and diversity. And we have signed the Anti-Racist Small Business Pledge, and are committed to implementing it in our business.
We believe in a business culture of appreciation, realistic expectations and work plans, an openness to new ideas, and quality over quantity.
We believe that there are many different paths to success, many different viewpoints, and always more than one way to succeed.
And we believe that how we feel about our work is just as important as how profitable the work is.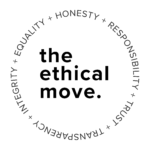 We do all this through a business model that prioritizes ease over hustle, collaboration over competition, and authenticity above all.
We don't worry about grabbing a bigger slice of the pie; we just bake more pie!
This badge represents our pledge to the ethical move in service of a new marketing standard based on transparency, trust, and honesty. Please connect with me if you see me not honoring my pledge.
Our Promise:
When you work with us, you can stop worrying about your content marketing for the next 6 months and move forward confidently to share your message. We'll create an editorial calendar and content strategy that's aligned to your business goals and provide the resources you need to make it happen.