Hustle. Do the work. Ship.
Whatever you call it, it's the key to building a successful business.
And it's a lot easier to say than it is to do.
Let me start this conversation by asking you a question:
If I gave you a goal to double your list — or triple it — in the next 6 months, could you do it?
The answer is yes.
I don't care who you are. I don't care how big your list is or isn't. I don't care what your track record with list building is. If you had a goal to reach a certain number and you did the dang work, you could reach it.
I know this because I proved it to myself.
Gather 'round, children, and let me tell you a little list building story.
Recently in the private group for my Focused Blogger's Intensive program, we were talking about metrics and setting goals by which we could measure how well our content was serving those goals.
And someone asked me how long it took me to get to 1,000 people on my list, and then how long to get from 1,000 to 2,000.
That seems like a reasonable question, doesn't it? She was looking for a benchmark — saying, "How long can I reasonably expect this to take for me?"
But the problem is that there's no single answer. And looking to what happened for me is just one answer in an infinite sea of possibilities.
Oh, all right: how I built my list
I started this business in mid 2012. At the end of 2014 I had around 600 people on my list and it had stagnated. So that's two years of "list building" and only 600 people to show for it. Granted, I wasn't doing a whole lot of promotion back then. I was feeling things out, growing the business slowly.  Here are some of the list-building things I tried during this time period:
I created an ebook as a lead magnet. Then I created another one. Neither really hit it out of the park for me.
I participated in a "bundle" that was generally a pretty terrible idea, but did grow my list by about 60 people — which was a lot at the time.
I did a couple of guest posts for small websites.
I did a couple of webinars, but only for my own audience.
February 2015, I launched the new website and started to grow. I hit 1k around March of 2015. List growth leveled off toward the end of the year, and I ended up at around 1800 by the end of 2015.
That's pretty excellent growth — at least, by my standards. I tripled my list in one year.  Here are some of the things I did that worked for me:
I did some more guest posting — some did well, some less well.
I got interviewed on some podcasts, but not all of them converted well for me.
I did a "scavenger hunt" when I launched my website, which got a little over 100 signups.
The new website itself boosted signups for a while.
I started doing content upgrades, which made my regular list growth from week to week much better.
I hosted one JV webinar that got me about 200 signups in one go.
Around this time, I joined Tara Gentile's Executive Intensive program for alumni of the Quiet Power Strategy program, and I told her that I wanted my focus for 2016 to be on increasing the percentage of my revenue from programs. To do that, I needed to focus on growing my list. And Tara challenged me to set a goal of reaching 5,000 people by July 1.
(For those of you doing the math, that's not quite tripling my list in six months — or double my list growth from the previous year.)
As of May 16, I'm at 4,500 — well on track to hitting my goal.
How did I do it? How did I add 2,600 people to my list in about 4 months?
I did the work. I stopped futzing around and did the work!
First, I made a list of the things I knew I should be doing, but wasn't: I added a HelloBar to the top of my site and an opt-in on my sidebar — and I offered a very small, concise, specific lead magnet that gets a big win in a small amount of time.
I continued doing content upgrades that have proven to do well for me, and I HUSTLED and scheduled six more JV webinars to other people's audiences. I also volunteered to be a guest expert in two membership communities (one paid, one not).
Why didn't I do all this sooner? I HAVE NO IDEA. Because there's no reason I needed to wait until my 4th year to do any of this stuff, and I could have grown a lot faster if I had tried it sooner.
How to grow your list in 1 easy step (plus 5 bonus steps)
OK, so you're inspired by my story of growth and want to get to work growing your own email list.  Awesome.  Here's what I would tell you if you were one of my students:
Do the damn work.
Don't just look at this list. Don't just download it and forget about it. If you want to see growth, you have to do the work. (I speak from experience.)
Add more opt-in forms.
This might seem like a no-brainer, but it's one of the dumb things I wasn't doing. The more opportunities you give people to sign up, the more likely they are to sign up. (Duh.) I list a bunch of places to consider adding opt-in forms in the download.
Test different list-building strategies.
What's going to work best for you? Content upgrades? Webinars? Guest posts? Well, you don't know until you try. The key, for me, was strategies that got me in front of new eyeballs — that is, finding other people who already reach a similar audience and finding ways to interact with that audience.
Don't assume something is working — track it.
This is a big one. Originally, I thought more was better when it came to lead magnets, and offered two big, gorgeously designed, meaty ebooks. But it wasn't until I offered a single-page "Perfect Blog Post Template" (see my sidebar) and it blew those ebooks out of the water, that I realized they weren't performing that great. As Tara says, "How do you know if it's working if you don't track it?"
Look for the places you'll get the biggest bang for your buck.
Ask yourself: How can I get in front of the MOST eyeballs with the LEAST amount of work? For me, that has been JV webinars. I offer to do a webinar for someone else's audience (sometimes in exchange for letting them do one to my audience) and all the signups for the webinar go directly on my list. Next for me are content upgrades because they're consistently good for opt-ins and pretty easy for me to produce. Then podcast interviews, because they're crazy easy, but don't convert as well. And probably at the bottom of my list is guest posts, because they require a lot of energy and can be hit or miss with results. Remember: your mileage may vary. Discover what works for you.
Lather, rinse, repeat.
Once you've figured out a method that seems to work well for getting you a BUNCH of signups for the least amount of work, keep doing that. After my first JV webinar got me 200 signups, I thought, "HOW CAN I DO THAT AGAIN!!!" And I went out and hustled and scheduled 6 more (about 1-2 a month). My most recent one? Netted me 877 signups. KA-CHING.
The best thing I've learned is to create systems around the strategies that work the best for me so that I can easily repeat them. For example, I'm getting this webinar thing down to a science: I have a checklist I copy for every new webinar I schedule; I have emails, landing pages, talks, and handouts I can tweak and reuse for each presentation; and I know exactly which tasks need to happen to make them work smoothly. The same can be said for creating content upgrades.
When Tara challenged me to get 5,000 people on my list in 6 months, at first I panicked. Then she showed me that it was just a matter of numbers. To hit my goal I needed an average of 533 signups each month. I knew that I was already averaging 200 a month just doing what I was doing. And I knew that a JV webinar had gotten me 200 in one go.
From there, it was easy math to say that I could do one webinar a month and at least get close to my goal.
(Of course, these are just numbers. Real life doesn't always flow in such a mathematically correct way. One JV webinar I did only got 26 signups [and she even ran a Facebook ad for me!]; but, another with the exact same topic — different audience — got 877.)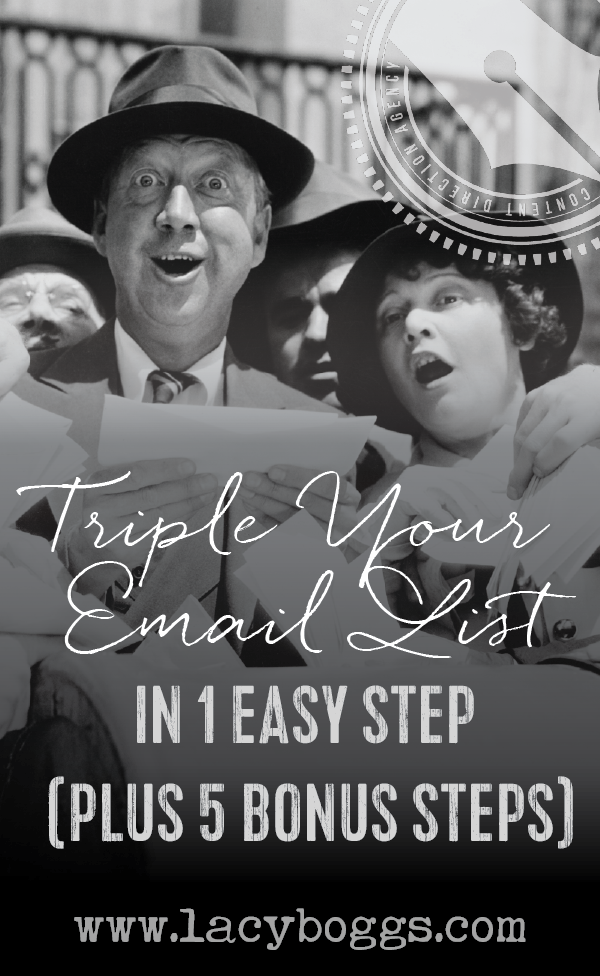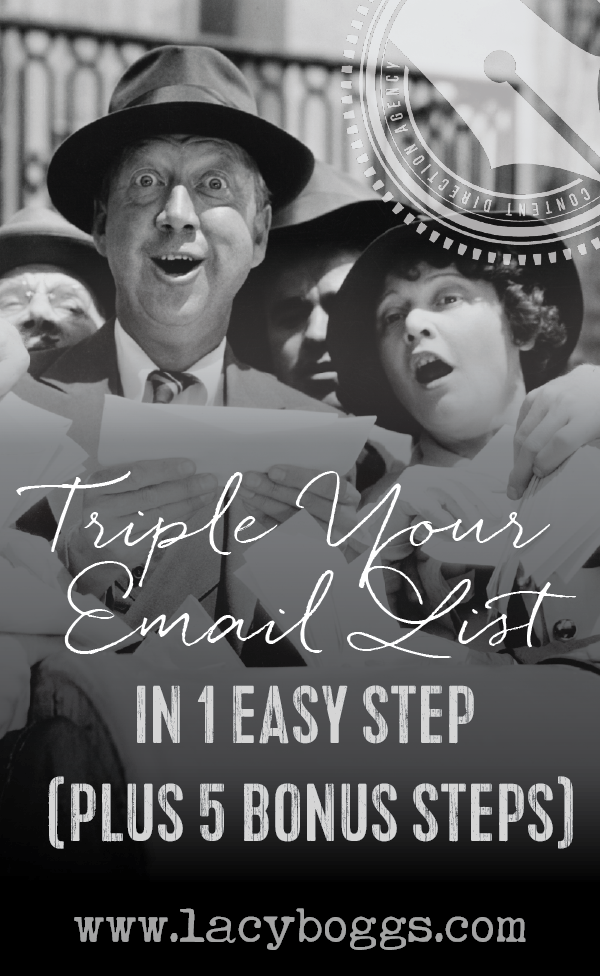 Wait a minute — you didn't build your list fast by blogging?
Before we wrap up this story, let's address the elephant in the living room…
The short answer is no: straight up blogging is not the fastest way I build my list. It is one of the ways, but not the No. 1 way.
But consider this: According to my reports, 2,852 people have opted-in to download one of my content upgrades so far this year — some of those are duplicates, people who were already on my list, but that's still an impressive number.
Blogging is only half of the content marketing equation; the other half is driving traffic. If you're driving a great deal of traffic to your blog by any means, your list-building efforts through your blog will naturally be a bigger driver of your opt-ins.
Plus, once people are on my list, I have to nurture them before they will buy something from me. And the way I do that is with my content. It's my preferred way to sell my programs. And it's working pretty well!