The marketing industry is full of content ideas; ask anybody selling marketing services what kinds of content you should create, and you probably won't be able to get them to shut up about it!
But most of these lists of ideas don't tell you WHY you should use a particular type of content, WHEN you should employ it, or HOW it can add value to your business.
The truth is, some types of content marketing will deliver more ROI for your business than others.
Thought leadership coach Regina Anaejionu talks about depreciating content and appreciating content:
Depreciating content is content that loses value over time. A Tweet is a good example of depreciating content because once it gets an initial burst of interactions, it fades into obscurity.
Appreciating content is content that gains value over time. A search engine optimized article, for example, will gain value over time as it rises in rank and sends more traffic to your website.
I love this way of explaining it. As Regina is quick to point out: both can be valuable and have important roles to play in your business. But by definition depreciating content will have a lower return on investment over time.
The problem is that most small business owners I see and talk to these days are focusing most of their energy on depreciating content (mostly for social media) — and then they get frustrated with both the time and energy required to constantly be producing it, and the low return on those investments. 
Then those business owners start to believe that content doesn't show any ROI; or their content teams are churning out short videos and beautiful quote graphics, but the boss is frustrated because all that work (and money) aren't adding to the business' bottom line.
If this sounds like you, you're in the right place! You could keep creating content with no plan, focusing on the wrong types of content, and wasting time and energy on content that won't show a return…
Or you could create a content plan that focuses on driving ROI — and revenue! — for your business.
Why you should focus on creating high-ROI content
Here's the thing that bugs me: LOADS of business owners have stopped focusing on the types of content that offer the highest ROI in favor of social media. Pop into any gathering of business owners, online or off, and most of the questions will be around how to use short-form video, how to grow your following on social media, how to get more engagement, etc.
And there's probably nobody asking about blogging.
Too bad. There's a growing body of evidence that shows long-form content out performs short-form content in generating leads and sales — by a huge margin.
Business owners need to know this so that they can prioritize their content creation for the greatest value and ROI. You control what type of content you're putting out and where you're spending your time and energy in your business — but you may have been swayed by shiny objects, influencers, and people selling ways to increase vanity metrics (such as likes and comments) that don't actually add to your bottom line.
Some experts will contend that content marketing is all about being visible, getting likes and views, and that building an audience with engagement (alone) will lead to making the big bucks. But I disagree.
Sure, your business needs an audience — you have to have someone to sell to!  But focusing on that visibility and audience building alone, without investing in evergreen pieces of content that will actually convert those people into buyers, is an exercise in frustration and futility.
If you've been concentrating your content efforts on social media, this may bring up some feelings for you. You might feel skepticism if you haven't seen ROI from content in the past (this could have many different reasons). You might feel some amount of shame if you feel like "I know I should have been doing this, but I haven't made it a priority." You may even feel angry or confrontational if you feel like you have seen big ROI from social media content.
After 10 years in this business, though, I can confidently say that if you're not investing at least some time and energy into creating these types of high-ROI content, you're leaving money on the table. The good news is you can add these at any time — and you've got almost nothing to lose by trying.
It's time to add high-ROI content to your marketing plans
There's never a bad time to implement these pieces of content, but they're especially useful any time you're looking to grow your business. High-ROI content pieces are based on sharing evergreen information that's valuable to your audience and have been constructed to send you leads and customers over time. 
When will you see that ROI? Well, it depends on a number of factors of course; but what's important to note is that most (if not all) of these pieces will only increase in value over time.
But some of them will show a quicker turnaround time than others, which I've noted for each type below. For example, a referral email could generate sales right away, whereas an SEO-focused piece of content will show ROI that grows over time.
Don't get derailed by trying to take on too MANY high-ROI content projects at once. I suggest prioritizing the list for your business and then tackling the projects one at a time.
This list will be MOST helpful when you're planning your content projects for the next month, quarter, year, etc. And, while it will be helpful for even the newest business to put these types of content in place, established businesses with proven offers will see the fastest results.
Regardless of when you decide to implement, you should absolutely make adding these foundational content pieces to your arsenal when you have time — or you should outsource them to get them done more quickly by a professional. Think of it as investing in your business' infrastructure in ways that will make more revenue possible in the future.
(And, P.S. there's no shame in getting support! Not everyone is skilled enough to create content that will convert on the first try. If you want to speed up your results, hire a professional.)
6 types of content that will definitely show a return on investment (ROI):
1. Email welcome sequence
An email welcome sequence is an automated sequence of three or more emails that "onboard" new subscribers to their relationship with you.
My favorite way to structure a welcome sequence is to use the Know, Like, and Trust factors to guide me:
Email 1: Introduce yourself and let people get to Know you.
Email 2: Tell a funny story (or a slightly embarrassing story) to help people Like you.
Email 3: Offer some additional expertise by way of insights or resources so that people begin to Trust you.
Email 4: Make an ask.
I include email 4 in this sequence because waaaaay too often, business owners never include a call to action in their welcome sequences. Depending on how long your sales cycle is, though (that is, how long people are in your world before they make a purchase) you may be missing out on sales by not telling these early adopters how they can buy from you or work with you. So always include a call to action.
In my own welcome emails, I'm experimenting with a longer sequence.  I keep the first three emails as that know, like, and trust sequence, and then upcycle some of my best content (from blogs, social media, newsletters, etc.) for the rest of the emails. Oh, and I include a call to action in almost every email.
Who is an email welcome sequence for?
Anyone who has an email list should have some sort of automated welcome sequence — no matter what business or industry you're in.
Why use an email welcome sequence?
Because like any good relationship, you want your subscribers to get to know you. Not having a welcome sequence means you're just dropping them into your regular email newsletters (you do have a regular email newsletter, right?) without any context. In fact, if they don't remember signing up for your list, they may unsubscribe right away because they're confused.
The welcome sequence acts like an orientation to you and your business. It's like saying, "Let me show you around," when someone comes to visit. 
And it provides them with valuable context when you do tell them how you can solve their problems and ask for the sale.
When should you use an email welcome sequence to see ROI: (FAST vs. Slow)
Once you implement a welcome sequence, you can start seeing results pretty quickly, especially if you're regularly adding people to your email list. (You can even send the sequence — once! — to your existing list if you choose.)
Plus, this resource is evergreen, so it will keep producing ROI as long as you have it turned on.
How does an email welcome sequence show ROI — and what metrics should I track?
You want to track: opens, clicks, and sales (especially sales directly from clicks in these emails). But remember: you'll only get sales if you ask for them!
2. SEO blog post or podcast show notes that target high-converting keywords
Search engine optimized (SEO) blog posts or articles are content specifically engineered to appeal to people searching for solutions to the problem you solve. They are written and formatted to use particular keywords so that the search engines can easily understand what the article is about and who it will help.
You can use this strategy with traditional blog posts, like this one, but it also works well to repurpose podcast or video content into optimized articles. They have the added benefit of providing an additional accessible resource to people who can't or choose not to listen to or watch multimedia content.
Who will benefit from SEO blog posts?
Any business with a solution that someone might google an answer to will benefit from SEO content. My friend Meg Casebolt calls it "love at first search": the feeling you get when you type a problem into Google and find a perfect solution.
Why should you create SEO blog posts?
Blog posts, podcast show notes, and other content on your website are your 24/7 sales person. They're never offline and they're available any time someone is searching, anywhere around the world. There's immense value and potential in being the solution to someone's problem at the exact moment they're trying to solve it; and it's very hard to replicate that kind of synchronicity in any other way.
When should you use SEO blog posts to see ROI? (FAST vs. SLOW)
Sometimes people can see a spike in traffic from a new blog post or article right away; sometimes it takes months or even years to show the full potential of an article. (That's why I've marked them both fast and slow above.)
The content for these posts should be evergreen and address questions and problems your ideal customer might be searching to answer. A great SEO consultant can help you identify what keywords they're using to phrase their search, and a strong content writer will be able to translate those keywords into valuable content. (We have a great SEO partner we work with when providing blog posts for our clients, and all our writers are trained to write for SEO.)
SEO value and ROI increase over time; you might not see sales the first week or even the first month you post an article, but if you do it well, you will over time. And, even better, the more SEO articles you post, the better they will all do cumulatively.
How do SEO blog posts show ROI — and what metrics should you track?
People often say it's hard to track ROI from a blog post — but not when you've optimized for search. You can track: traffic, rank, opt-ins (assuming you include them in the post), and leads or sales from specific tracking links in blog posts.
>> Need to get your content — past, present, and future — organized?
Try our Ultimate Content Planning System
.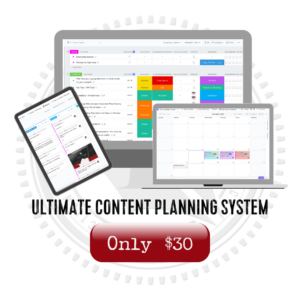 3. Referral request email
A referral request email is an email you send out to your contacts, colleagues, past customers, etc. asking if they can introduce you to anyone who needs your services. It helps keep you and your business top of mind for them, and encourages them to reach out when they know someone you could help.
A referral request email should include:
A personalized greeting
A description of your ideal customer written so that a referral partner can easily think if they know anyone who meets the criteria
A description of the product or service
And maybe a short paragraph your referral partner can copy and paste to make the introduction — think about all the ways you can make this as easy as possible for them.
(Feeling awkward about this? Need some help crafting something compelling and clever? We can help!)
Who are referral request emails best for?
Any business that might get referrals can use this type of email, even product-based businesses and bricks and mortar businesses. The only exception might be a business that solves a very private or sensitive problem — where people would be uncomfortable asking about it or suggesting a solution.
Why should you try sending a referral request email?
Generally, your friends and colleagues will want to send you business, but they may not think to refer you until you ask. Most people like to be connectors and like to introduce mutual acquaintances who can help one another.
It may feel weird at first, asking other people to send you business, but when it's handled well and written appropriately, it can be a fantastic way to drum up new revenue and build relationships.
Some businesses offer referral fees or other kickback schemes, but it isn't necessary. I've tried it both ways, and most of my best referral partners are happy to refer our services without any remuneration.
When should you use referral request emails? (FAST vs slow)
When done well, referral request emails can show very fast results. The key is not to over-use this tactic. Depending on your business and your audience, you can probably safely send this type of email quarterly or twice a year.
If you want an influx of referrals more regularly without annoying your network, segment your contacts into different groups. Then you can rotate through, sending a note to group A in the first quarter, group B in the second quarter, and so on.
How does a referral request email create ROI — and what metrics should you track?
Sales! This type of content is the fastest to result in sales, generally. To make sure it's working, you'll want to track email opens, clicks, responses, referrals, and sales.
4. Case Studies
A case study is a narrative article walking readers through a real customer's experience, starting with their problem and moving through the solution you provided and the result. It's longer than a testimonial quote, more in-depth than just before and after photos, and generally includes a section that explains more about how your solution helped achieve the result. Writing up a case study as an article helps potential customers see themselves in your past clients' successes. It helps them bridge the gap between where they are now, and what's possible.
Think about the last few items you've bought online; chances are, you saw some sort of testimonial or case study that influenced you to buy. I recently bought a tool for removing pet hair from fabrics because the videos in their ads on Facebook were so impressive. (And it really does work!)
Who can use case studies to increase revenue?
Case studies are great for any business that can show a clear before and after with their customers. You also have to be able to use customer results in your content; some industries, like personal coaching or counseling, might want to anonymize their case studies for client confidentiality. Other industries, like financial services, may not be allowed to use case studies at all.
Most happy customers are willing to be interviewed for a case study, but if you're nervous to do the interviews yourself, we partner with a service that can collect your case study interviews for you, and then we can write them up.
Why should you consider using case studies to generate ROI?
Case studies take advantage of an interesting psychological phenomenon: we crave social proof. People are psychologically more comfortable investing when they see others doing so. It's the same reason you might see a pop-up on a website that says "Joe in Smallville just made a purchase!"
A case study proves your product, method, or expertise works and it helps potential clients envision their success through the lens of someone else's.
When should you use a case study? (FAST vs. SLOW)
I've marked this one both fast and slow — because a case study can help a lead become a client quickly if you use it as part of your sales process.  But it can also gain and retain ROI over time if you publish it on your website as a blog post, landing page, or opt-in.
I think in general people don't share case studies frequently enough. Once you discover the power of case studies, you may want to work them into your regular content production calendar. I could see a company sharing a new case study once a quarter, or even once a month depending on how many clients they serve overall.
Display your case studies prominently on your website, both as blog posts (that may get pushed off the first page of results after a while), and as static landing pages or even as part of your "testimonials" page.
You can also turn your case studies into a PDF downloadable asset — check out ours here.
How do case studies produce ROI — and what metrics should I track?
As I mentioned above, case studies can help leads decide to become customers during the sales process, so you could see very quick results. But they also provide lasting, evergreen content for your site and can continue to influence leads for months or years (as long as the case study is relevant).
For case studies, track traffic to the published page, clicks from specific links on those pages, downloads if you make a PDF of the case study, and sales.
5. Ebooks or whitepapers:
Generally longer than a standard blog post or article, an ebook or a whitepaper is an in-depth, usually downloadable resources for your audience. They are usually attractively designed and formatted, and can be gated (requiring an email address to download) or not, depending on your audience and use case.
In general, the term whitepaper is used for more technical or research-based resources, whereas an ebook could be on practically any topic.
Who should use ebooks or whitepapers in their content marketing?
Any business can produce an ebook or a whitepaper, but they work especially well for:
very technical industries
customers are larger businesses / corporations
very high ticket offers
longer sales cycles
A quick caveat: as business owners, we tend to think "more is more," and will sometimes fall into the trap of providing more information than necessary.  Early in my business, I had a 40-page ebook as my main opt-in to collect email addresses. After I'd had it for a year or so, I switched it up and tried a single-page worksheet. The worksheet was much more popular, I think because it wasn't as overwhelming as a "book" and promised the subscriber a quick win.
Then again, I worked with a manufacturing company to create four whitepapers about their product and processes that were wildly popular with their audience.
So consider your audience and their needs before putting resources into creating an ebook.
Why consider producing an ebook or whitepaper?
Ebooks and whitepapers work well because they position you as an authority — especially if you're including unique research, data, thought leadership, etc.
If you decide not to gate them behind an email opt-in, you can make them searchable (SEO) and drive traffic to your website through your proprietary information.
If you do decide to ask for an email in order to access them, you can use them as opt-ins and track customer interest by which topics they download.
When should you use an ebook or white paper? (fast vs SLOW)
Creating a quality ebook or white paper is probably the biggest content marketing project on this list, and will take the most time and energy. But when done well, they can have a big impact and be used for a long period of time.
This type of project is also, admittedly, a bigger time and energy investment, so it can definitely pay to hire a professional.
How do ebooks and white papers produce ROI — and what metrics should I track?
Producing your own book of useful information or research can be an incredibly valuable tool to attract leads and convince them to become customers. They can generate traffic to your site, help you compile interest and leads lists, and be used during the sales process.
You'll want to track: traffic to the page, downloads (if you have the info gated), leads, and sales.
6. SEO landing pages
We already talked about SEO articles and blog posts, so what's the difference with an SEO landing page? Often, if there's a highly valuable keyword you want to rank for, you can create an entire landing page to serve as a jumping off point for visitors who find you via search. It's like a private entrance for people interested in that particular subtopic.
A good example is this landing page from AirBnB specifically for potential hosts. It provides a different experience than going to their homepage to search for a place to stay as a guest. When I access it from my home IP address, it even provides an estimate as to how much I could charge renting out my home — clever!
Who are SEO landing pages most useful for?
Search engine optimized landing pages are great for anyone who really wants to dominate a particular search term. They can demonstrate your expertise and provide an "ultimate guide" experience to the user. 
They are a great way to round up all your existing resources and information around a single topic that you're asked frequently about: think blog posts, podcast episodes, videos, downloads, etc.
They're also a good way to create a "gateway" for a segmented audience. A friend of mine is a copywriter for both startup tech companies and more established mid-market and enterprise level tech companies. She decided to create an SEO landing page aimed directly at the enterprise companies to provide them a customized experience, as they are typically looking for different information than startups.
Why use an SEO landing page?
These search engine optimized landing pages are a great way to demonstrate authority, rounding up a number of resources on a single topic in one place.
They're great for SEO for your site, generally, and can tell the search engines that your site is an authority on this particular topic.
And they can provide a valuable and customized user experience for a segment of your audience. Designers will often opt to remove the regular navigation links from these pages to help move visitors toward a single action — like signing up for a demo or a sales call.
When should you use SEO landing pages? (Fast or SLOW)
Like all SEO, these landing pages can take a while to show results — but the ROI will continue to build over time.
They're especially useful for companies that already have a lot of resources (blog posts, podcast episodes, downloads, etc.) on a single topic important to your ideal customer
How does an SEO landing page deliver ROI — and what metrics should I track?
You'll want to track traffic to the page, SEO rank, and clicks or leads generated from the page and how they result in sales.
The great thing about these specific SEO landing pages is that they deliver a lot of data about exactly what the visitors and leads are interested in (the topic of the page) which can be helpful during the nurturing and sales process.
>> Our
Ultimate Content Planning System
is a great way to organize your content so you can see what belongs on an SEO landing page!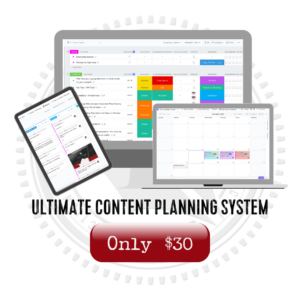 Investing in high-ROI content can reduce the amount of time you need to spend on content marketing overall
Your business is successful, and your content marketing must be working at some level, but how much of your time and energy is going to "feed the beast," creating more and more depreciating content for social media.
There's a cost to staying where you are and continuing on that hamster wheel of content creation: If you don't focus on creating the types of pieces that appreciate in value over time, you're going to continue to work harder than necessary to see ROI from your content — forever.
But if you take the time and make the effort to create a few high-ROI pieces, they will continue to grow their ROI over time and generate passive income and value.
This presents a huge opportunity for you to reexamine and reprioritize your content plans — but that can also be a challenge.
But don't fret!  Even if you've been spending all your time and energy recently on depreciating content, you can start creating content that appreciates in value at any time. And I predict that future-you will be proud and thankful that you made this investment when you're seeing ROI in the form of traffic, leads, and more sales..
If you need support, my team can help. We can help you create any of the above-mentioned content pieces for your business with the skill of a combined 50+ years in the industry. If you've never written a case study or a white paper, let the professionals take it off your to-do list instead!  Click here to learn more and book a call.