Editor's Note: A while back, I posted in a group asking for SEO tips for bloggers, and Bryn responded with an offer to do a guest post on his "sneaky" tips for SEO keyword research. This is a question I get asked a lot, so I was happy to post his ideas. The system Bryn outlines below is a great way to discover content ideas in your niche that people are searching for, and then optimize your posts for the exact search terms they're using. Let me know what you think in the comments below! ~L
So today you're going to learn a couple of sneaky ways I do keyword research.
Of course, you can write blog posts without doing any keyword research, but you'll miss out on an important and easy to implement opportunity.
You see, according to http://www.worldometers.info/blogs/, you'll see anywhere from 2 million to 3 million blog posts being posted each and every single day. That's a lot.
So if you want a higher probability to get your posts noticed and read, then this method can help you do just that.
Mind you, some of these steps are not openly known to the public, so do get your advantage while you still can. 
So, let's spill the beans.
1. Google keyword planner (but enter a competitor's website)
Log in to your adwords account. If you don't have one, just google 'how to set up a Google adwords account.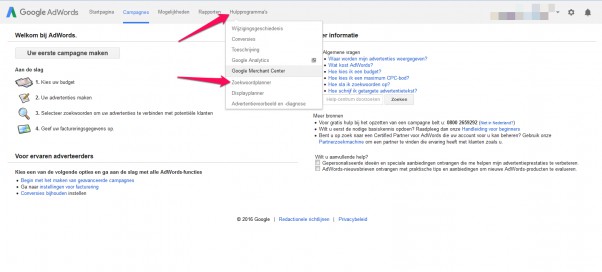 And then click on the buttons shown in the screenshot. (Apologies for it being in Dutch, the screenshots will clarify where to click).
Next, click on 'find new keywords.'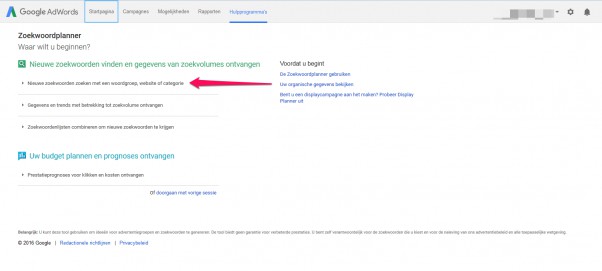 This will open a dropdown menu.
Next, fill in the website of a competitor (or a website you'd like to go to for inspiration) and click on search.
In this example, I'll be using Tim Ferriss' blog.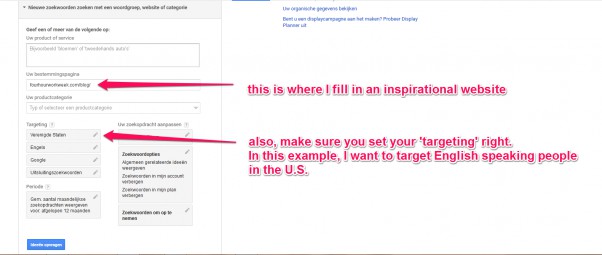 (Now you can go in even deeper, by setting certain filters like 'I only want keyword ideas that are being searched more than 1000 times a month.' But for the sake of this blog post, I'm trying to keep it as clear and concise as possible).
When you set the website and have your targeting right, click on 'get ideas.'
It will show you a screen similar to the one below. And when you see that screen, I want you to click on 'download' and download the file in csv. 
This will give you the space to check the keywords and dig in for something that you resonate with.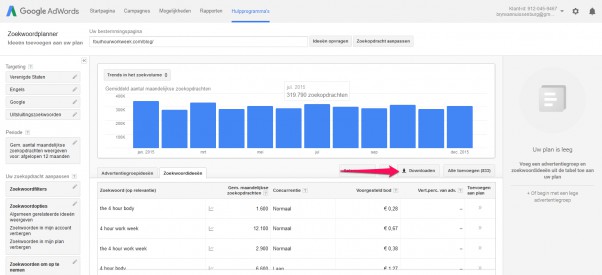 When you open the csv file in Excel, it might look a bit messy.
But there's no need to worry.
All you need are columns B and D.
These are the columns with the keywords, and the monthly searches.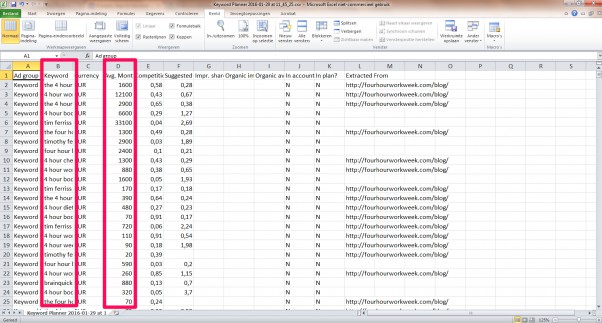 Delete every other column so you end up with a nice and clean list.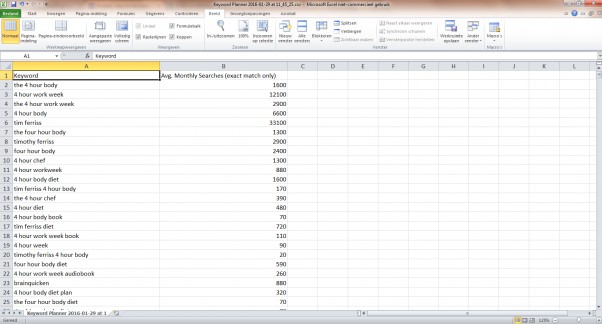 Just to clarify a bit, I cut/pasted columns B and D into columns A and B after I deleted all of the other columns. I like this, because it's neater.
Now that you have a nice and clean list, you want to go through that list and see which topics resonate with you. 
Then pick one. And write it down in a separate file.
For this example, I'll pick 'How do you make a blog' which has about 390 monthly searches. 
2. Fill in the term in keywordtool.io and check for long-tails
Before I show you how to do this, I'll give you some clarity on what 'long-tails' are in terms of SEO.
In short, 'generic' keywords are the 'head' keywords, and highly specific multiword keywords are the long tail keywords.
Multiword keywords? Yes young grasshopper. This is just a fancy pants way of saying there are multiple keywords stringed after one another.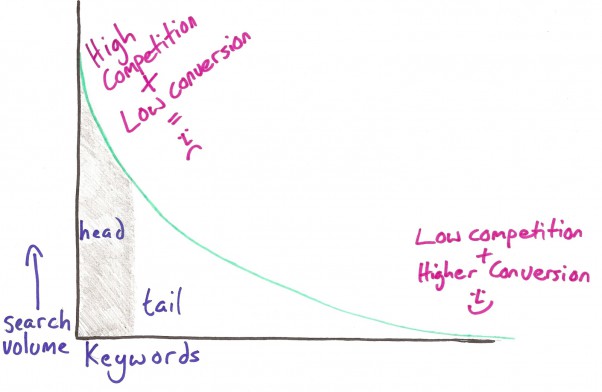 So in this example I'm using, a 'head' keyword might be the term "blog."
And to find long tail keywords, I'd like you to open the following tool.
Step 1: enter the keyword you just wrote down
Step 2: make sure you're targeting the right country.
Step 3: make sure you're targeting the right language.
Step 4: click on the 'search' icon.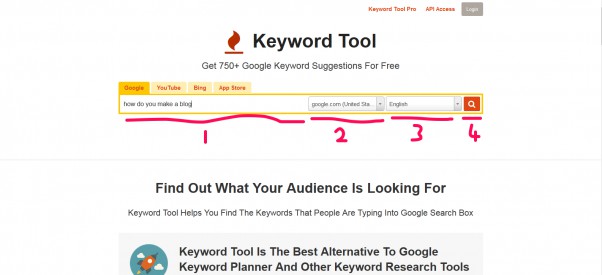 If you're using the free version (which I use) it won't show you the search volume.
But that's fine.
Just write down the ones that you like, or select them and click on the orange 'copy' button, and paste them into the file you wrote the first keyword in.
In this example, I'll pick 'how do you start a blog and make money'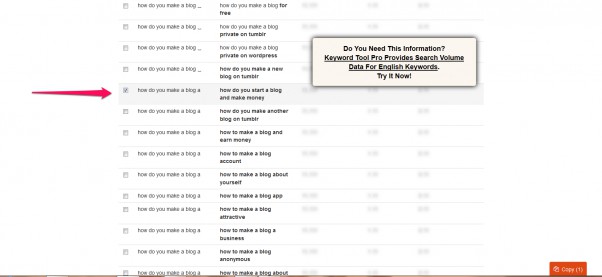 3. Enter the long tail in keywordtool.io and repeat step 2.
This is the sneaky bit.
I haven't seen one blog post sharing what I'm about to share.
You take the long-tail keyword you just wrote down in the previous step (or one of the keywords if you wrote down multiple ones that you find interesting). 
Then what you do is you enter it into the keywordtool.io again. 
This is what it shows as results for 'how do you make a blog and make money'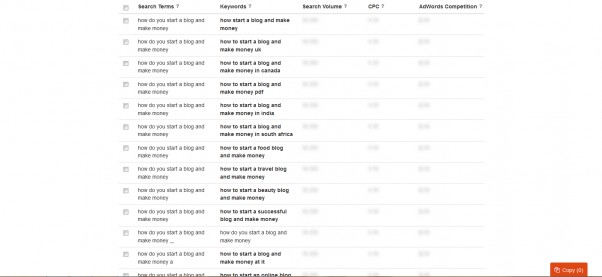 Now you have a variety of highly specific posts you can create around your main post.
Some ones that I might target are:
How to start a travel blog and make money in south africa
How to start a food blog and make money
And you can go in EVEN deeper…
You can copy these long-long-tails (I know, it's not an actual word) and enter them into this tool AGAIN.
Are you starting to see the potential?
Highly targeted visitors to your blog!
Now how do you target these keywords while writing a post?
(This is actually a whole other post, but I'll give you the most important parts) 
Have the long-long-tail in your URL structure
Have the long-long-tail (or a synonym) as the title
Make sure you actually meet the deeper need of your visitor.
Writing a blog post takes time. And with almost 3 million blog posts being posted every single day, you want any edge that you can get, right?
Comment below to let us know how you think keyword research is going to help you!