I get a lot of questions about what I use for this, that, or the other thing, so I thought I'd do up a list of the online business tools, free and paid, that I use to run my business.
*Please note that some of these links are affiliate links.
But wait… How do you know which tools are right for you?
This seems like a great time to remind everyone that comparing your raw footage to my coming attractions trailer is never a good idea.
What that strange metaphor is trying to say, is: I am four years into this business.  I started out with a free website template and a stock illustration that I bought for $30. I started with the free version of MailChimp — and the free version of just about everything else!  So don't be thinking you have to go invest in Infusionsoft and a custom website just because I have one.
How do you know when you are ready to upgrade?  Here are some clues:
When your website and/or processes around your business are held together with spit and bailing wire, and you've got 15 different apps or plugins with data spread across all of them…
When you start running up against the limits of the free versions of whatever it is you're doing, like only getting to schedule 10 updates in Buffer or chat 1:1 in Zoom.
When you're wasting too much time on systems or processes you've duct taped together — time you could be spending creating revenue. 
When you absolutely hate doing something. Or really suck at it.
When the tool you're investing in will create more time, money, or leads than it costs. For example, the pro version of HelloBar costs $4.95 a month. The value of the leads I get from that are worth more to my business than $5, so it's a good investment. 
One other note: just because I love CoSchedule doesn't mean there's anything wrong with Hootsuite or Edgar. These are the tools that work for me, for my business, right now.
So now, without further ado: 
Lacy's Little Black Book
of Online Business Tools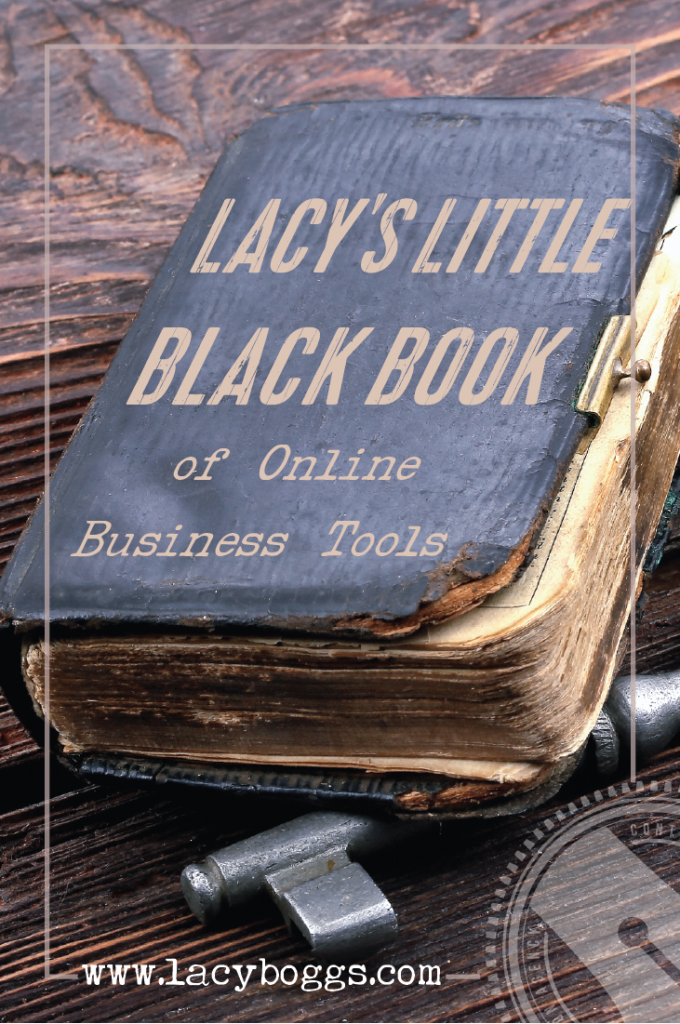 Social Media Scheduling
For me, scheduling at least some of my social media updates ahead of time is VITAL. I love CoSchedule for its visual interface and ability to share directly from WordPress. They're also planning to release an automation feature similar to what Edgar does. It even has a Chrome extension for sharing from any web page.  I do, however, also use the free version of Buffer sometimes, because I like the "random" posting schedule. Grum is an AWESOME tool for scheduling Instagram posts from your computer. 
Website 
My website was designed by Public Persona and is built on Headway. I use most of the AmbitionAlly suite of tools because they work so well together and with Infusionsoft. 
Hosting
After I got pretty well screwed by Hostgator, I moved to Nikole Gipps' hosting, and haven't regretted it. She is a GREAT person to have in your speed dial when everything goes arse over teakettle with your website. 
Project Management & Business Stuff
My team and I generally use Asana for project management, but I also use Basecamp with a couple of my contractors and Trello with my podcast gals. I do all my invoicing and bookkeeping with the free version of Wave. 
Email 
Around January of 2016 I made the switch to Infusionsoft, and I'm so impressed by everything it can do. But be warned: it's crazy complicated. Unless you want to spend hours and hours figuring it all out, you need someone like Jamie at Zenplicity to make it all run smoothly. 
Infusionsoft — email marketing, CRM, shopping cart, etc.
Zenplicity — for automation and integration!
Graphly — for Infusionsoft reporting and visualization (very cool) 
Webinars and live calls
LOVE how easy WebinarAlly is for hosting great webinars. I've never had an issue with it. I put a Chatwing box under the webinar box on the webinar page. And I use Zoom for all my group coaching and podcast recording.
WebinarAlly — for webinars
Chatwing — for chats with webinars
Zoom — for smaller group calls and recording my podcast!
Podcasting
If you haven't checked out our podcast yet, WHY NOT?  P.S. You Got This!
Other Outsourcing
There are TONS of ways you can outsource in your business — here are 50 more if you're curious. 
What I'd like to know is this: What would you like to know more about? I'd be happy to answer any other questions about how I run my business — either here in the comments or in a future blog post. Drop me a comment below to let me know what questions you have!
Save
Save
Save