On this blog, I mostly talk about content creation, but there's a flip side to that in our social media world: content curation.
Content curation refers to what you share with your readers, and it's a major psychological trick to use to help them know, like, and trust you.
People share content that makes them look good. They want to share things that make them look smarter, funnier, more inspirational, more attractive. And we as business owners do the same thing. We're cultivating our brand persona through what we share, and embedding that persona in our followers' minds when they like or re-share what we've shown them.
But if you're not careful, this kind of work can be a real time suck. You intend to spend a few minutes topping off your social media scheduler and BOOM! Before you know it you've fallen down the rabbit hole and hours have gone by.
So today, I'm going to share my routine for curating great content, in about an hour a week or less.
Use CoSchedule to promote your own content.
The first tool I rely on is CoSchedule to not only see my blog posts in a visual calendar (great if you're a visual person like me) but also to schedule shares of my own content. The plugin makes it super easy to set up social shares of my blog posts directly from the WordPress publishing window. It even makes suggestions of how often I should share a post, as much as a month or two into the future. AWESOME.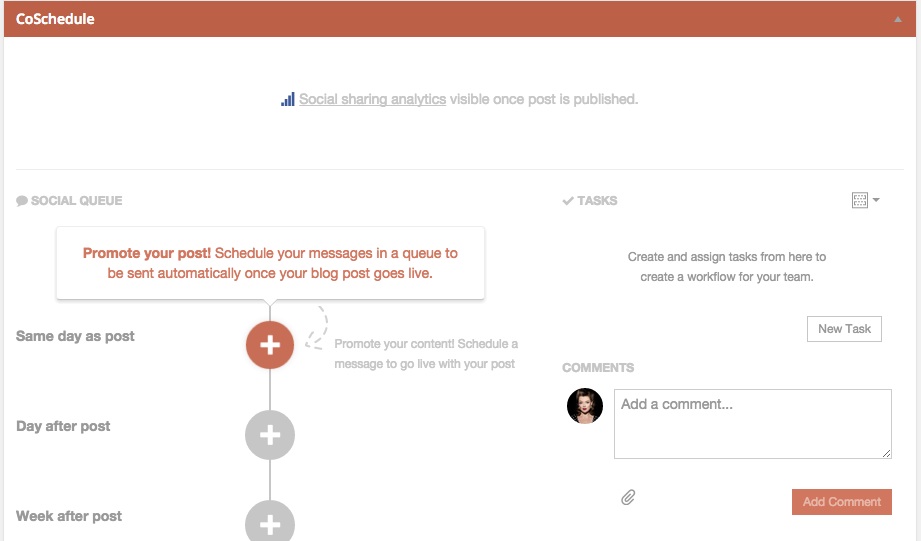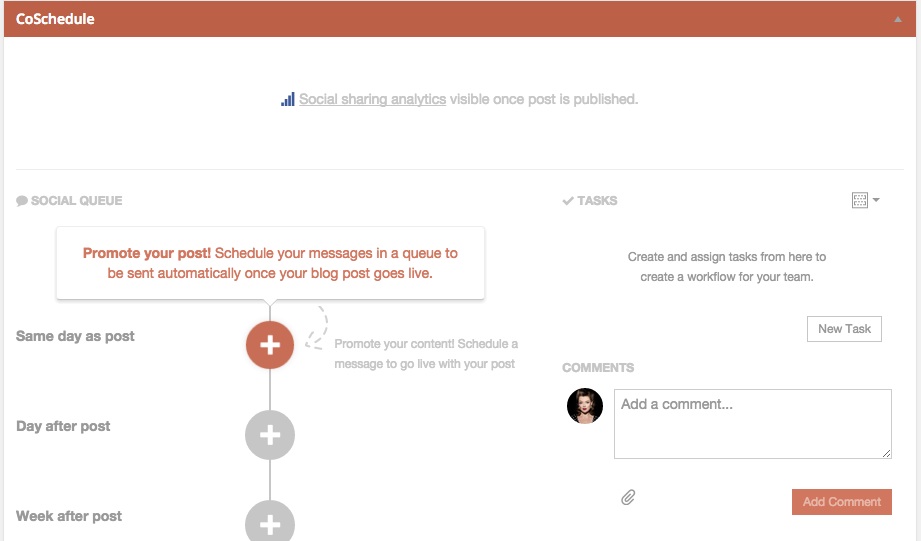 Each week, my indispensible VA, Emily, uses CoSchedule to schedule shares of my most recent content as well as content from my back catalogue.  The program has built-in tools to track my top posts over time, and schedule future shares of those as well.  It also allows easy sharing to groups, and Emily also helps me manage regular posts to my Facebook groups — like my weekly posts calling for shares in The Network blog promotion group.
I pay for CoSchedule because it's such a robust and versatile tool, and the links to it above are my referral link.
Use Buffer + Snip.ly to share other people's content.
As you're probably aware, Buffer is a social media scheduling app that, with its browser extension, allows you to share content from anywhere on the web.
Snip.ly, you may not be aware, is another browser extension that allows you to convert any link into a shortened version that also displays a pop-up box at the bottom of the screen inviting people to visit your website after they finish reading the content at the page they're on.  So, effectively, you're turning every link you share into an additional link to your site. Pretty cool.
I use these two tools in conjunction.  As long as I am logged into Snip.ly, it will automatically "snip" any links I cut and paste — including the ones I cut and paste into Buffer — making the content I share also a link back to my site.
I use the free versions of both of these tools, and for now at least, that's all I need.
Share images directly via Facebook.
One additional strategy I employ is to share images directly from another page via Facebook.
I do this for a couple of reasons. First, I've noticed that sharing images (especially funny cartoons or visual jokes) from a page larger than mine somehow trips the Facebook algorithm to show the post to a much higher percentage of my followers. If I save the image and upload it directly to my page, it doesn't work; I have to use the actual share button on the other page's post.
Second, posts that are scheduled via tools like CoSchedule, Buffer, and HootSuite seem to have a penalty when it comes to the algorithm and are shown to fewer people, so sharing these kinds of things "live" tends to reach more people.
I follow a few different pages that aren't direct competitors of mine (like Grammarly) which post lots of funny images, and then share an image whenever it tickles my funny bone.
But where do you find the content to share?
I've developed several shortcuts to finding excellent, engaging content to share with my readers.
Join a blog promotion group.
The concept is that you post your most recent blog for others to share, and in exchange, you share links to two or three other people's posts. There are tons of these groups out there, but I've started my own because I was frustrated being asked to share smoothie recipes and weight loss articles that weren't targeted to my audience. The Network works slightly differently to try to avoid that problem, breaking out the sharing into two lists B2B (business to business) and B2C (business to consumer). That way, hopefully, you always find something relevant to share.  This has made my content curation SO much easier, because I have a short list of great content, from people I actually WANT to promote, all in one place.I copy the promo and link, paste it into Buffer, Snip.ly snips the link, and boom. Done.
Use a feed reader to follow interesting blogs.
This is an excellent way to keep up on your favorite blogs and share great content. I use The Old Reader, because I like the format, but you can use anything you like. Plug in the feeds of your favorite blogs and you'll find all your favorite content in one place. Again, I use Buffer and Snip.ly to share any great posts I find.NOTE: I also keep my editorial calendar idea bank open while I'm going through my feed reader, because often other people's posts will spark an idea for a future post from me. I can just jot down a note in my idea bank, along with the url of the inspiring post, and I'm done.
Use Twitter lists to connect with influencers.
When I was doing freelance journalism, I had one outlet to which I had to pitch 15 or 20 story ideas at once every couple of months. I used Twitter lists almost exclusively for generating ideas.A list is just essentially a selection of people you follow on a specific topic.  Here's how to create one. My favorite thing to do is create a Twitter list of influencers in my field — especially ones I'd like to connect with — and then use their content and suggestions, with a hat-tip to them, as part of my content curation. It's a great way to get on their radar.
What you share is almost as important as what you create. It shows who you are, what you like, and what you support. It's another integral part of your brand voice.
If you'd like a step-by-step checklist to use for your own content curation, you can grab it inside my library of free resources!
Click here to join.
And if this content resonated with you, I'd be thrilled if you'd use the buttons below and share it with your audience. Think how good it will make you look! 😉