On February 9, 2015, I launched this website and this new brand onto the world.
And for me, it was a big deal.
My gross profit for 2015 was nearly double what I earned in 2014.
My email list grew 192% in 2015 after nearly stagnating in 2014. 
My traffic jumped more than 1500% (yup) overnight.  (That was the bump from the launch. It didn't stay there, but it did stay much higher.)
My average traffic per day jumped 50% over 2014.

For less numbers-oriented wins, I also signed up 3 new VIP ghostblogging clients, two of whom are absolute dream clients. I signed on four new clients for my subcontractors, and I went from selling dozens of spots in my courses to hundreds.
It also cost what felt like a BOAT LOAD of money at the time — even though I was getting an amazing deal from my team. It was the kind of investment that was just painful enough to make you think, "OK, I have to make this work!"
And it has probably paid for itself 10 times over in the last year alone.
In fact, making that investment, hiring the A+ team who could be the experts when I wasn't — that was probably the biggest thing I did right to make this succeed, and if you take nothing else from this post, take that. Invest in the best and you'll get the best results. 
What I learned
Launches never go exactly as planned.
Of course, my website was not finished by the estimated completion date. It went several months beyond that, as a matter of fact. 
I was super frustrated, but I had to roll with the punches. When we finally launched, there were some minor details that weren't perfect, things I wanted to have fixed, but overall, it was SO MUCH BETTER than before, that I was thrilled to just have things up and rolling.
Then, I launched my "big event" for the launch, a marketing scavenger hunt. I had asked six of my colleagues to contribute to the scavenger hunt, and the content was STELLAR.
What wasn't so stellar was the participation.
I had about 110 people total sign up for the scavenger hunt — and while that was a big number of opt-ins for me compared to what I was used to seeing, it wasn't the massive numbers I was hoping for. 
My biggest takeaway from this was strategic: If you want to make a big splash with a launch, you have to start building that list before the event takes place. Looking back, I wish I had done more to get my name out there and promote myself before launching my website and the scavenger hunt. I could have made a much bigger splash. 
I was paying attention to the wrong things. I was so worried about getting things right on my side (writing the content, getting the site to look perfect, etc.) I neglected to put enough focus on promotion before the launch. 
Brand for the business you want.
Probably the best piece of advice Sarah Ancalmo gave me in our branding process was to brand for the business I wanted to have in five years. 
Not today.  Not tomorrow.  FIVE YEARS down the line.
Why? Because by painting yourself and your business as a little bigger, a little savvier, a little whatever-er, the people you want to work with will self-select and find you.
And she could not have been more right.
As a ghostblogger, I was working mostly with pretty well established business that might have cracked six figures, but weren't household names, even in their respective niches.
Now? As far as I'm aware, all of my ghostblogging clients are well into six and even seven figures. They are internationally recognized in their fields. And they're posting my words not only to their own websites but sites like Forbes, Entrepreneur, Inc., and others.
In fact, just a month or two after this new website launched, I got the opportunity to do a project for a client who was literally on my dream list, and afterward she hired me on retainer and we've been going strong ever since. 
I told Sarah Ancalmo, my brand strategist, I was going to have to come up with a new five-year dream, because I was already achieving it two months in.
How much of this was the beautiful new brand, and how much was the confidence the new brand has given me? You be the judge. To me, they're pretty much the same thing.
It pays to be different.
Every single week, I get compliments on my website and brand.  
In fact, just yesterday, I happened to shoot off an email to someone who had actually been part of my "competition" research for my brand, and she replied, "Girl, I looove your stuff! I was stalking your website a few months ago, revelling in how incredibly spot-on your branding is! Well done!"
Well, slap my face and call me Shirley.  :>
Part of this love-fest is that my brand is very different. It doesn't look like everybody else in my field — it doesn't look like anybody else at all, period. 
That's because it's really, truly, me. I like to say it's me dialed up to 11, but it's still me.
The branding process Sarah took me through was vital in creating this, because everything was considered. Every piece of the puzzle from the fonts to the photos, the logo to the word choices was carefully considered and crafted to be unique and different.
It stands out.  I stand out.  And for that reason, people remember me.
When I was interviewing for my last real job, the publisher of the magazine asked me to create a plan for where I would take the magazine if I were hired. I went home, did up my plan, and waited. I thought she had said that she was going to email me to ask for it — but she was waiting on me to email it to her.
That should have been the end of it. I should have lost the job.  But two weeks later, when their editor quit unexpectedly, they needed to bring someone in fast to "pinch hit" and help get the magazine out the door. They said, "What about that blue-haired girl? She seemed good…" and called me up.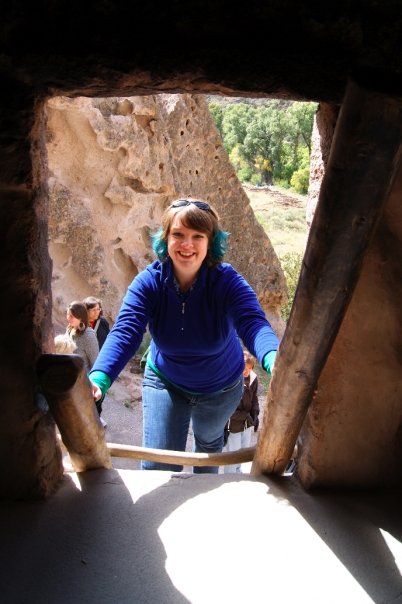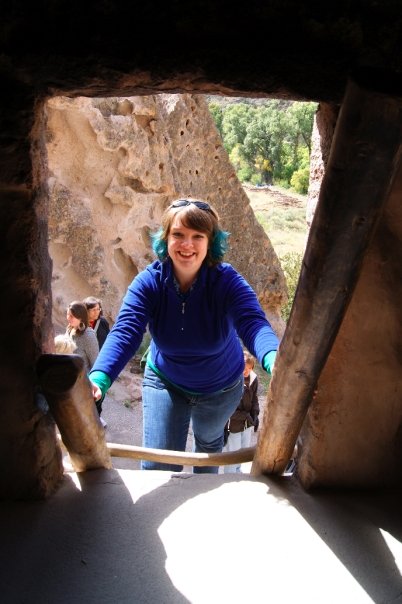 Yup. I had blue hair. And after I was laid off, a job-hunting coach told me to dye it back to brown, because I would never get hired looking like that.  
Showed what he knew. Standing out and being different got me remembered — and got me hired. 
Your website is your blue hair, your distinguishing feature. Make sure it's memorable (in a good way!). 
Be yourself.
Finally, as I said above, this website is really very me. Yes, it's me with fancy clothes and hair and makeup. (And no, I definitely do not look like that every day!)
But overall, it's totally me. I looove telling stories. I'm a little bit dramatic, and definitely a little cinematic. I'm totally geeky and a little silly. My personal style gravitates to retro looks with quirky details. I taught myself to write on a typewriter (and I can type 100 words a minute). I adore books, and film noir and mysteries are a part of my hobbies and my loves. 
This is me. Moreover, it gave me the confidence to be even more me in my business.
When I started my first website for this business, I was laboring under the impression that I needed to sound… businessy. I see this all the time with my clients, as well.
But the truth is, the more I relax and let myself be myself, the better it works.
I recently rewrote all my autoresponder emails, and I included what I used to think were some embarrassing details of my life in there.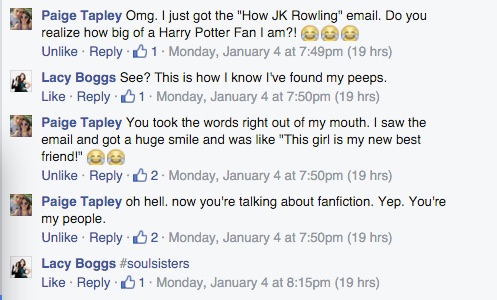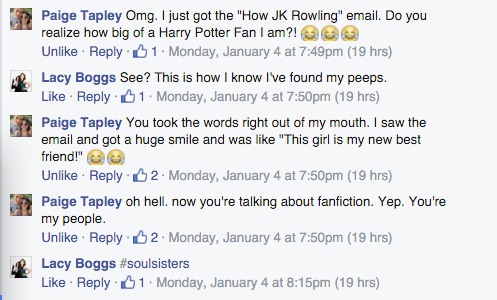 More people are responding to my emails than ever before. I'm getting more and more comments about my content being useful and amazing.
But let me tell you: I was scared. I didn't want my face plastered all over my website at first. I didn't even want to use my name as my URL. I was a friggin ghostblogger for goodness' sake!  
Sarah talked me down off the ledge and helped me see that I needed to be the face of my brand. In my line of work especially, yes people will buy because I'm the expert, but they're also going to buy because they like me.
And they have to know me in order to like me. (It's that whole dang know, like, and trust thing again.)
Getting those pictures made, plastering my face and my name all over my website and social media made doing things like being more vulnerable and more honest in my copy that much easier. 
It was a tough hurdle to vault, but I'm so glad I did.
I'm going to be writing some more posts about finding your brand voice in the coming weeks, and I'd love to know: What do you struggle with when it comes to uncovering or defining your brand and brand voice? Let me know in the comments below.