You're out there blogging, providing amazing advice — but you need some advice too. How do you keep your blog legal? How do you protect your business and your content? 
Nellie Akalp is a serial entrepreneur, small business advocate, speaker and author. Through the various "Do-It-Yourself" and "Business-Startup" services she has founded since 1997, she has formed more than 200,000 corporations and LLCs for small business owners.
Her last company was acquired by Intuit in 2005. Today, she and her husband, Phil, operate CorpNet.com where they help entrepreneurs start a business, incorporate, form an LLC, set up sole proprietorships (DBAs) and maintain a business in compliance with state filing requirements for a new or existing business.
When I started my LLC back in January of 2013, I used CorpNet to file (and it was super-duper easy), and so when Nellie reached out and wanted to share some As to commonly asked Qs about blog legal tips, I was excited to talk with her.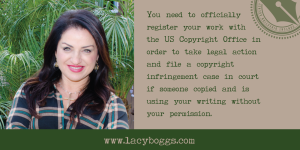 I created a simple checklist to help keep your blog legal — click here to download it now! (P.S. I'm not a lawyer — obvs. — so this isn't legal advice, just a solid place to start!)
LB

: If I have a website and blog for my business do I need to have a "Terms of Service" agreement?  What should that cover?

NA: While most websites have a "Terms of Service" or "Terms and Conditions" page, there's no actual legal requirement to have one. However, it's a smart idea to include Terms of Service, since it's a relatively easy page to create and can limit your liability on the off chance a reader tries to take you to court for something written on your website. Your Terms should have some kind of disclaimer that say you can't be held responsible for any errors in content on your website.

Google "Terms and Conditions generator" and you'll find numerous services to help you put one together. In most cases, this will be a perfectly suitable method, but if you're particularly concerned about liability issues with your website, you could have an attorney draft one for you.  
LB

: If I collect email addresses from my blog from people interested in my products and services, do I need a privacy policy? What are the basic points that should cover?

NA: If you're collecting any information from your readers (whether it's gathering cookies or their email address for a mailing list), you should have a stated Privacy Policy on your site that states what information you collect and how it's used. For starters, it's the right thing to do and help keeps the layer of trust between you and the reader. In addition, if you're monetizing your blog through ads, most third party advertisers (for example, Google AdSense and Amazon) require that you have a Privacy Policy.

You can browse the Privacy Policies on blogs and websites to find something that fits your needs. Basic details to include are things like "We do not share personal information with third parties" and "You can turn off the use of cookies at any time by changing your specific browser settings."   
LB

: If I sell digital products — like ebooks or ecourses — do I need additional terms of service or privacy policies for those products, or do the ones for my whole website cover my products, too?

NA: Generally speaking, if you are selling digital products like eBooks or ecourses that are originate from your website, then as long as your website terms of service or privacy policies cover and include those additional products and services that are being downloaded, then that should suffice.  However, if you have the bandwidth and can create one for each, that is always better.
LB

: Is it enough to just write "Copyright 2016" at the bottom of my website or blog, or do I need to do more in order to have a case if someone steals my intellectual property?

NA: Copyrights exist to protect the creators of original authorship – including original digital content on blogs and websites. It's important to realize that any original work is automatically protected from the moment you write it and publish it to your website. As the original author, you're permitted to include "All Rights Reserved" and "Copyright 2016" on the bottom of your website.

So, you're probably wondering if this is enough to prevent someone from stealing your work? In some cases, marking your website with the copyright symbol may deter others from stealing your work. However, you need to officially register your work with the US Copyright Office in order to take legal action and file a copyright infringement case in court should you realize that someone copied and is using your writing without your permission. Registration makes it easier to prove ownership of your work (and when you wrote it)- and can allow you to collect more in damages.

The choice to register a copyright is up to you. If the writing on your website or blog is very valuable to you and you feel more secure knowing that you could sue for damages in court, then registering a copyright can be worthwhile.  

Nellie shares her expert tips with readers at Forbes, Entrepreneur and Mashable and is a regular guest expert on the Fox Small Business Center. She was named a Top 100 Small Business Influencer in 2012, 2013, and 2014 by Small Business Trends. Nellie has presented a workshop at Small Biz Expo and sat down with members of Girls in Tech, General Assembly and more to inspire and motivate others to make their business dreams a reality.